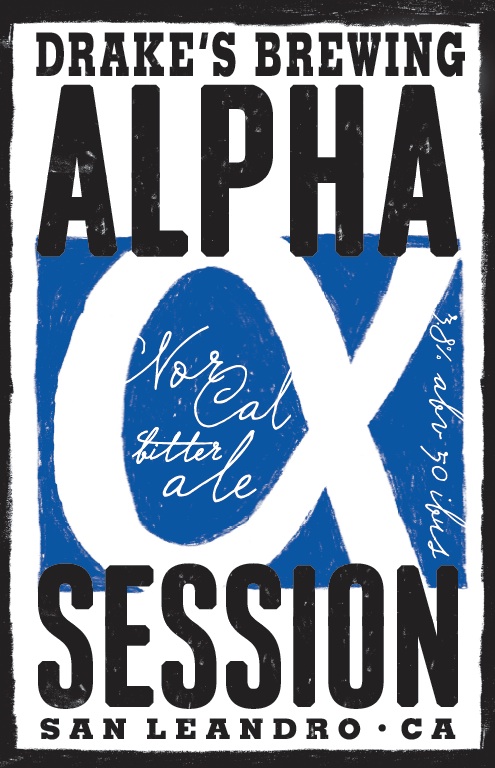 Three years ago, the brewers, in an effort to give their livers a break from the big IPAs and double IPAs they'd been cranking out (IPA, Denogginizer, Hop Salad, Aroma Coma, Hopocalypse), decided to brew a session ale. However, they were unwilling to give up their west-coast hop addiction to accomplish this goal.
Their solution? 1. Brew a light, refreshing session ale with 2-row, Maris Otter, and a touch of crystal malt (3.8%) 2. Crank up the hops to IPA levels (50 IBUs) with large additions of West Coast hops in the boil and another hefty dosage in the dry-hop. 3. Leave the beer only loosely filtered. 4. Enjoy many pints.
Since our first batch of Alpha Session, low-ABV ales have grown in popularity throughout the craft beer community, with ales like English-style Milds, Berliner-weiss, and small beers growing in popularity. So after two years of brewing this "NorCal Bitter" ale in small batches, and likely drinking most of it ourselves, we are ready to share our hop-forward take on session ales with our fans. This time round, Alpha Session has been given full annual seasonal status, meaning that once a year this brewer favorite will be available both on draft and in 22 oz bottles.
To celebrate, we're kickin' back at the Barrel House all day Saturday, May 19th from 12-9pm. The Drake's crew will be on hand sippin' on Alpha Session, giving tours, playing games of washoes, and generally having an excellent day. For noshing, Oakland's Fists of Flour pizza truck will be coming by all day to sling pies for our friends. Bottles of the Alpha Session will be available for purchase (limited number per person), so folks can come have a pint and take home some more for later.
Tags: Alpha Session, Brewery Tours, Drake's Barrel House, Drake's Brewery, Drake's Brewing, event, FIsts of Flour, Food Truck, pizza, Seasonal release, session ale, Spring Seasonal