Celebrate Repeal Day at December's First Friday

This Friday, December, 5 marks and auspicious occasion for all who enjoy adult beverages. On December 5, 1933, the United States officially ratified the 21st Amendment thereby repealing the Volstead Act and ending the failed experiment of Prohibition for good. 
This Friday also happens to be our monthly Drake's First Friday, in which we at Drake's show our community all the good that beer can do by raising money for local schools and non-profits. Every month, rain or shine, First Friday gathers a bevy of beer fans together for a good cause, and this month we will celebrate extra in gratitude for our simple right to raise a pint. 
In honor of the 81st Anniversary of our Constitutional right to beer, we will be kicking off our First Friday event with a special, experimental firkin of our "Repeal Day Rodger" – Jolly Rodger Imperial Coffee Stout with Cacao Nibs and Apricots and collectively hoisting our glasses for toast at 7pm to the heroes that brought down Prohibition. 
For full First Friday details, check out the First Friday page on our website.  The Barrel House will be open for normal service from noon to 4pm, and then from 4pm-6pm for package/to-go sales only (bottles, growlers, kegs, schwag).
---
ENJOY your Holiday Shopping this Year!

Yes, we know. Holiday shopping stinks. The malls are crowded and smell like your Aunt Ida's bad perfume, parking may very well drive you to murder, and online shopping is a crap-shoot at best. It all just makes you really need a beer.
If only you could handle your holiday shopping with a beer in hand….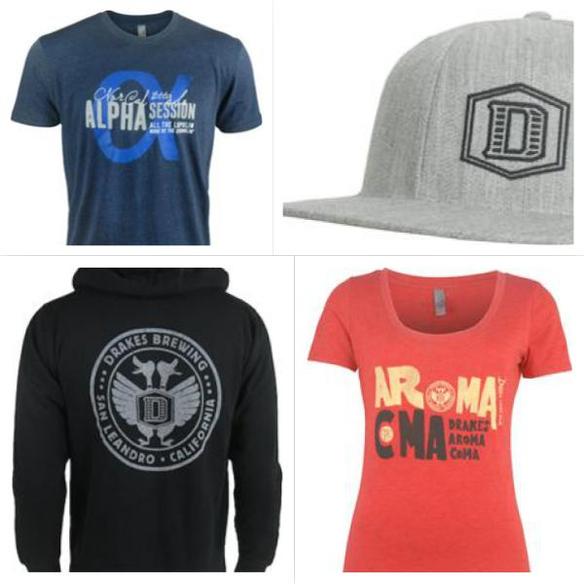 "How?" you ask? At Drake's Barrel House you can help yourself to gifts of hats, sweatshirts, t-shirts, glassware, and more for the whole family (trust us your infant nephew will grow into that Denog shirt), all while you enjoy the pleasure of sipping on your own glass of Denog (or one of the 23 other stellar Drake's beers on tap). 
Not to mention you can grab your supply of Drake's beers to go in six-pack, case, bomber, growler, or 5g keg form to get you through the season. Think of the hit you'll be at your cool friend Tony's holiday party this year when you roll up with a 5g keg of 1500 Pale Ale. 
Can't make it to the Barrel House? That's OK. You can still check out Drake's Webstore for Drake's merch at DrakesStore.com on your couch while wearing your favorite footie PJs and enjoying a brew from your beer fridge which is always, well-stocked with 1500 and Denog, of course. 
You have your holiday game plan now. You're welcome, and happy holidays.
---
Drake's Barrel House updates
Drake's Barrel House marches on, and is getting better than ever.  We already told you about our new fleet of Brew-Rhino kegs, so you're much more easily able to come grab five gallons of whatever you want from us (no, we don't have Pliny).  Our food trucks are still here every week slingin' some of the best food you'll ever have on four wheels (or more).  So you can see, we're not fond of fixing what's not broken.
That said, Drake's Barrel House is dynamic, and new DBH Manager Travis Campbell is runnin' the joint now, working with Events Coordinator Amanda Cowles bringing in new events & features, like having Chabot Science & Space Center bring in a friggin' planetarium (shown below) a couple weeks ago, alongside a brewing & yeast demo by our QA team, Mike Spady & Jenna Blair.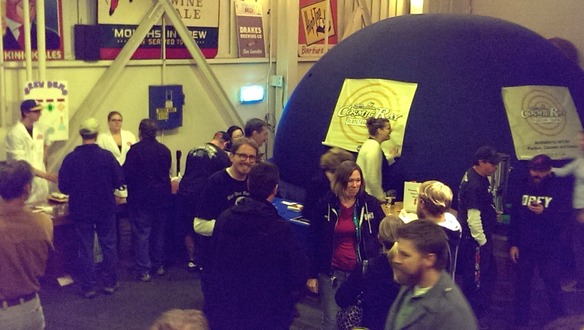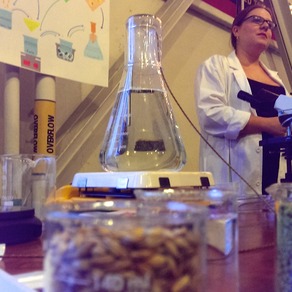 It's a little too early to go into the nitty gritty, but there are some significant expansions & upgrades coming to DBH in the coming months & years (like an in-house kitchen we'll have up & running soon to supplement our weekly food trucks), and as always, we're happy to be San Leandro's hometown brewery, and we wanna make DBH your go-to for fresh craft beer in San Leandro.
Drake's Barrel House music
We've also gotten to go-ahead to add a bit of ambiance to your weekend evenings here at the Barrel House, in the form of live music.  Here's who will be rolling through this month:
12/5 (First Friday) – M-TET
12/6 – The Delaney Project
12/12 – Planet Loop
12/13 – Crossbourne
12/19 – Lunarville
12/20 – The Delaney Project
12/26 – Charles Wheal Duo
12/27 – Terrence Brewer Duo
---
A Date with a Bottle with a Date.
We all know there's just about nothing better than a fresh 1500.  But… what does "fresh" even mean?  It's in a bottle, right?  You don't check dates on your Diet Coke or barbecue sauce, why would you for your beer?
Because freshness is a huge determining factor in how good that beer will taste, of course.  Beer is delicate stuff, and we & that bottling line of ours are doing everything we can to protect that beer until you open it. It starts with the actual brewing process. If you've taken a tour or poked your head in the brewery, you're far more likely to see people cleaning instead of anything that looks particularly beer-y. The well-known first three rules of homebrewing (and therefore, the entire industry) are "Sanitize, sanitize, sanitize."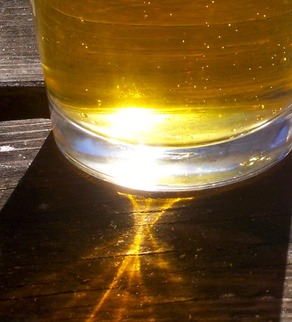 First off, bottle-wise, we use brown glass.  Brown glass keeps out the worst of the UV light that breaks down the alpha acids in hops causing an off-putting skunky flavor and aroma in beer. You've probably noticed that just about all craft beer is bottled in brown glass- not green or clear, which don't protect the beer nearly as well. This also explains why some clear- and green-glassed beers have a tendency to vary wildly from bottle to bottle if they haven't been stored impeccably after leaving the brewery.  (This may also explain the ubiquitousness of potent slices of citrus in the mouths of such bottles.)  "I mean, this is the West Coast… we use a lot of hops, and we gotta make sure we're not wasting all those hops by not packaging the beer properly. There's no easier way to kill beer than in the packaging process," Brewmaster John Gillooly tells us.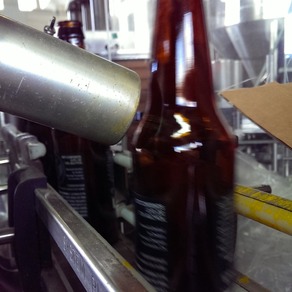 As a secondary aid to consumers on the freshness front, immediately after the bottle is labeled on our bottling line, a small inkjet printer on a tripod (shown right) prints the bottling date on the neck of the bottle.  This lets you know exactly how old that bottle is.  Here at Drake's, we generally use 120 days after bottling as a "best-by" date- but even that is a mere rule of thumb, as a well-cared-for Drakonic will likely be good for much longer, or conversely, a 1500 sitting warm in a store's front window will break down more quickly. (More on beer styles in a bit.)
After the bottle is labeled, it's then rinsed out with filtered, sterilized water- this ensures there's nothing in the bottle when we fill it. Then, the filler fills the bottles under a slight pressure, which results in a cascade of foam coming out the top of the bottle.  The crowner then places caps (known as crowns) on the bottle on top of the CO2 bubbles that make up that foam, ensuring no outside air gets in the bottle.  You know how you might sometimes crack open a bottle only to realize you can't finish it, but you know putting in back in the fridge isn't really an option?  Yeah, that's air's work- oxidation, to be exact, which is just as bad for beer as it is for wine- and it starts working immediately.  Head Brewer Chris Dunstan chimes in: "It's really kind of a cumulative effect- if air is introduced on the way between the fermenter and the bright tank, or the bright tank and the bottler, that damage is done, even if we flush the air out afterwards. We gotta keep the entire chain of events airtight, until that bottle is capped."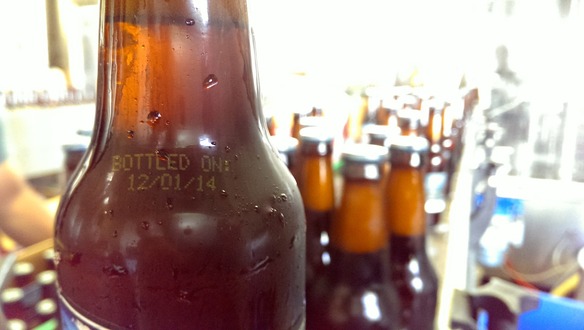 Okay, okay.  What's it all mean, already?  Look- we're spending good money to make this beer, you're spending good money to drink it, and we both want that beer to be as good as possible when you pop the top of it. Our bottling line takes care of the technical aspects, but your own education is the next biggest step.
Buy hoppy beer fresh.  In the mood for an IPA? 1500? Denogginizer? Cool, us too, but look for the date on the bottle to make sure they're fresh. Doesn't make sense to buy a hop-forward beer when the hops are all broken down, does it?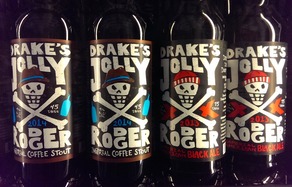 Now, darker and/or higher-ABV beers are less susceptible to this abuse. Darker beers tend to be lower in hops, so the breakdown of the hops is much less prominent & covered by the malt, and a higher ABV has the side effect of a preservative.  That's why you can see beers like Jolly Rodger and Reunion Barleywine in your local craft beer geek's cellar, biding its time for a year or five until it's finally opened.  Sours can exhibit a similar fondness for aging- in fact, many sour and other barrel-aged beers fare quite well for years after bottling, and some are even designed to be aged.
All in all, we're doing the best we can to make sure the beer is fresh when it gets to you, but the rest is up to you.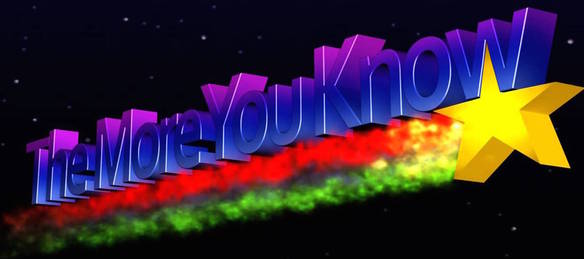 ---