November First Friday

First Friday arrives again tonight- the longstanding Drake's tradition that has become a major fundraising efforts for schools & youth education groups in & around our hometown San Leandro.
This month's shindig will be today, 11/7 from 4pm to 8pm, and it'll benefit our neighbors John Muir Middle School & McKinley Elementary. Grilled Cheez Guy, Fivetenburger, and of course our Barrel House staff behind the taps will be here to take care of dinner & drinks.
For full First Friday details, check out the First Friday page on our website.  The Barrel House will be open for normal service from noon to 4pm, and then from 4pm-6pm for package/to-go sales only (bottles, growlers, kegs, schwag).
---
San Diego Beer Week – November 7-16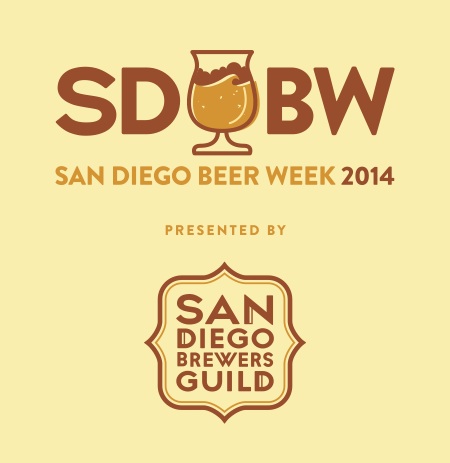 That's right, y'all. San Diego Beer Week starts today- a time where one of the best beer towns in the world gathers the best of the best together for a week-long Dionysian party of beer & beyond.
For our part, we sent & brewer Travis down to San Diego, where he met our sales rep Danielle & Monkey Paw brewer Cosimo Sorrentino for a collaboration brew day. The result? Stumble South Saison– a 5.2% ABV hoppy saison brewed with pilsner malt and a bit of wheat, and a Nelson-heavy hop profile with El Dorado & Galaxy. Expect this one to be light & fruity, with hints of pepper & white wine.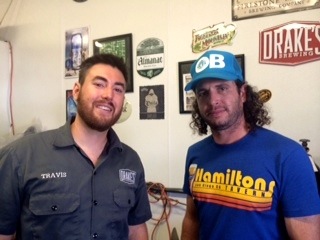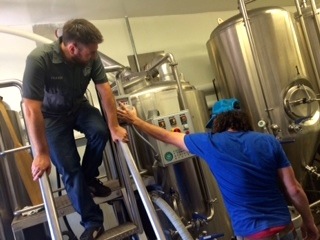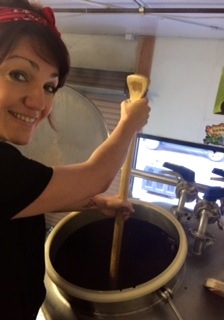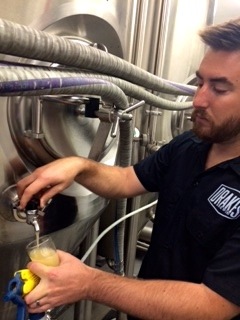 Look for Stumble South to hit Monkey Paw's taps today at 4pm, as Travis & Danielle will be on hand to tell you all about it, and what we're up to for the rest of San Diego Beer Week, the full schedule of which is available right here.

And don't forget- we have SoCal-specific Twitter & Facebook accounts to keep you LA & SD types down with what's up.
---
Drake's Barrel House updates
As mentioned above, Jolly Rodger is available here in bottles, kegs, and growlers, as well as Abdominally Jolly in growlers.  In addition to this year's offerings, we also have bottles of 2013's Jolly Rodger available, too.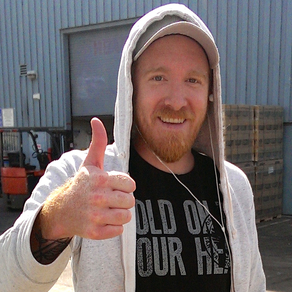 In other news, you DBH regulars have a new face to learn.  Coming to us by way of ChurchKey DC, Monk's Kettle, Abbott's Cellar, Mikkeller Bar, and Perdition Smokehouse is Travis Campbell, recently named in Zagat's 30 Under 30.  With a pedigree like that, we're happy to leave the Barrel House in his capable hands as the brewery itself also looks toward the future (more on that in the coming months).
Along with Travis, look for some other improvements coming to the Barrel House over the next few months, including a small kitchen to supplement our food trucks, and live music.
---
Jolly Rodger 2014 Has Arrived
Jolly Rodger, our ever-changing winter seasonal is out, this 24th iteration as an imperial coffee stout brewed with Blue Bottle™ coffee.  Timbers were shivered at the release, as the beer was flowing, meat was grilling, and people said "ARRRRR" a lot.
The beer will be available all throughout California & Reno/Tahoe in the coming weeks, both on tap and in 22oz bottles.  Abdominally Jolly, our imperial wheat IPA, is a more limited release, only on draft, mostly in the Oakland/SF & Sacramento areas.  Growlers of both are available at Drake's Barrel House.
---
Drake's Gives Thanks
Thanksgiving is this month, and we're pretty damn grateful to be here.  Not simply at Drake's, but in this great American craft beer industry as a whole- an opportunity that wasn't really available to many a generation ago.  Enter the gentlemen below.
John Martin of Drake's & Triple Rock, Fritz Maytag of Anchor, and Ken Grossman of Sierra Nevada, at the California Craft Beer Conference in Santa Rosa, holding the CCBA's first Hall Of Fame Awards. Photo courtesy Brewed for Thought
How's that photo for a who's-who of American beer?  The grandaddies of American craft beer were in the Bay this week for the California Craft Beer Association's 25th Anniversary.  Granted, we have some small bias since that's our fearless leader, John Martin up there, but we think it's safe to say that the current boom of craft beer all over the country wouldn't be what it is without the contributions of these gentlemen in the 60s, 70s, and 80s. They also helped found the CCBA, which dedicates itself to standing up for the craft beer industry in California in a way individual breweries wouldn't be able to.  So it's safe to say that as beer lovers, we all appreciate their work.  And here are some of the other [printable] things Drake's employees are thankful about:
Marketing Director Kelsey Williams: buttermilk biscuits, 1500, and puppies.
Logistics Coordinator Anthony Raggio: discounted Halloween candy and a third World Series.
East Bay & North Bay Sales Rep Liz Sale: a great company, awesome people, and tasty tasty beer [Ed. note: suck-up.]
Sacramento Sales Rep Eben Weisberg: I actually like everyone I work with… then again, I work alone up in Sac and don't have to put up with any of them every day.
Quality Assurance Assistant Jenna Blair: I am thankful for our new lab, and all the scienceiness it can hold now. I am also thankful for the overall environment & camaraderie at the brewery, which always makes me excited to come to work, even if there's a hiccup or delay.
Events Coordinator Amanda Cowles: I am thankful that my coworkers barraged the Barrel House decked out in bandanas, booty bling, black eyeliner, temporary skull 'n bone tattoos, and badass attitudes with spirit. Also, I don't have to sit next to the angry fax machine anymore.
Brewer Molly O'Brien: I am thankful for all of the cats in the world, red lipstick, and beer koozies.
San Diego sales rep Danielle Thomas: a beautiful new home, a wonderful family, an awesome job, and I found someone to spend my life with.
Community Manager Jeff McClure: 1500, dogs, the pile of Commisionner's Trophies at my hometown ballpark, and writing newsletters.