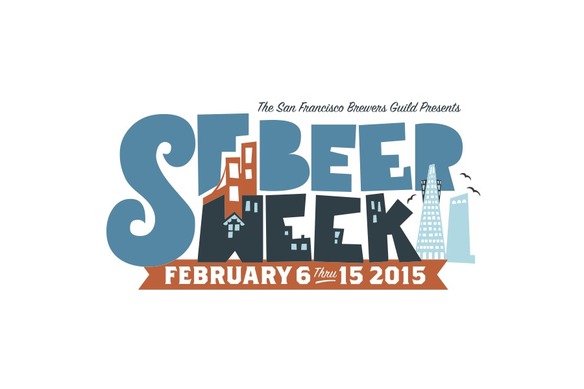 There are beer weeks springing up all over the country these days, but there remains THE one big grandpappy of a beer week that the national beer industry sets its calendar too: Ours.  And its sixth iteration begins Friday, February 6th at Fort Mason, with the legendary Opening Gala. We don't have to tell you if we'll be there (yes) or what we're bringing (all of it), so here are our other SFBW highlights:
Drake's Strong Bottle Re-Release – Black Label & Headzo
Now… to those of you visiting the Bay Area for SF Beer Week- first off, you've made the correct choice, because Beer Week is hella amazing.  But we have a little something in store for you. You see, for the first time, we didn't quite sell out of Black Label bottles on Saturday… so we're gonna break those back out along with our 25th Anniversary beer Headzo for a one-time SFBW "strong bottle" release.  Because while we love our neighbors & locals, we want to share our hard work with the rest of the community (we get to live in the Bay Area; it's only fair).  So on Sunday, Feb 8, swing by Drake's Barrel House to get your hands on these whalez, bro.  Limit 2 per person per beer.
Meet the Brewers of Monkey Paw & Drake's at Drake's Barrel House- Saturday 2/7- noon-2pm
Monkey Paw's own Cosimo Sorrentino will be on hand alongside Drake's brewer Travis Camacho to meet & greet & drink up some of their Migrating Monkey double IPA.
Big Beer Brunch at 21st Amendment- Sunday 2/8- 10am
One of the traditions of SF Beer Week has been this brunch, hosted by our friends at 21st Amendment in the City (even if we disagree on baseball teams).  So come join in the fun, along with Drake's owner John Martin, as he'll be on hand to give you the lowdown on what's what at Drake's.
Sour Sunday at Jupiter & Triple Rock- Sunday 2/8- 11:30-5pm
Stop by Jupiter to chat with our Barrel Program Manager Travis and try a bevy of Drake's sours as well as a treasure trove of local and domestic sour/wild ales, then head up to Triple Rock for some international sour whales that need time in your life too.
The End Is Beer 
at
 HopWater Distribution- Tuesday 2/10- 6-10pm
Join our crew including 
Brewmaster John Gillooly
 and 
owner John Martin
 as they educate you on their favorite means of surviving the Hopocalypse with a lineup of our beers including the 
Hopocalypse trio and food pairings
. Hop zombie attire not required but absolutely encouraged. 
Lunch Special- Tuesday, 2/10- 11:30am
Lunch Special at Triple Rock last year was such a hit (and a mercifully early beer event, as well) we're thinking of making this a permanent lunch date during SF Beer Week.  Alongside your actual soup, salad, and sandwich will be a flight of Faction's Hop Soup, Triple Rock's Hop Salad, and Drake's very own Hop Sandwich IPAs.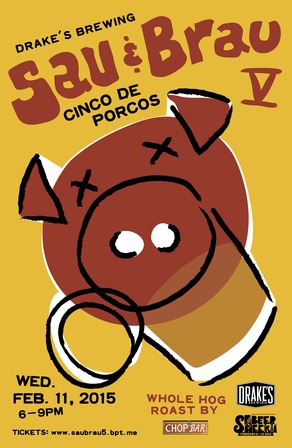 Sau & Brau V: Cinco de Porcos [SOLD OUT] –  Wed 2/11, Drake's Barrel House
Through the years, Sau & Brau has become one of the marquee events of SF Beer Week, always selling out, and drawing people in from all over the West to get their hands on our pork.  All 25 taps will be flowing with all kinds of specialties, of course, as well as a full pork dinner with all the sides provided by Oakland'sChop Bar, as well as dessert by Nosh This, creator of Bacon Crack (we get each other). Throw in some live music, good friends, and nearly the entire Drake's staff on hand to talk beer and brewing, and you have one helluva great night.
A Night Of "Rye Induced Fowl Play" with Henhouse at Monk's Kettle- Thursday 2/12- 6-9pm
Bask in the glory of friendship with Brewmaster John Gillooly and Henhouse Owner (and former Drake's brewer) Collin McDonnell and learn about our collaboration brew "Rye Induced Fowl Play," and a lineup of delicious Drake's and Henhouse brews each paired with a different dish in the Mission.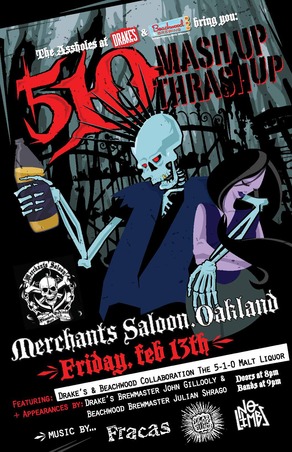 The 5-1-0 Mash Up Thrash Up at Merchant's in Oakland- Friday 2/13- 8pm – 12am 
Friday the 13th seemed like a good time to throw down with Beachwood Brewmaster Julian Shrago and our collaboration "The 5-1-0 Malt Liquor" with a metal-as-f&*% show in Oakland. Music from local bands No Limbs, Year of the Fist (featuring Drake's Firkin Master Hal McConnellogue), and Fracas(with Drake's Warehouse Manager Ian Carpenter). Brewmasters John Gillooly and Julian will also be taking the stage to teach you about their beers and collaboration. $7 at the door. Doors at 8pm. Bands at 9pm.
Drake's Beer and CA Cheese Seminar– Sat 2/14, Drake's Barrel House- 2-4pm
This started as one of our smaller events last year, but it became very clear that we'd have to expand it for this year.  We're happy to have Kirstin Jackson, author of It's Not You, It's Brie coming in again to guide the pairing, alongside one of our brewers to guide you through our beers. Tickets will be $30 and include 5 cheese pairings with Drake's exclusive specialty and barrel-aged beers.
Chillin & Grillin – Sat 2/14, Drake's Barrel House- 12-10pm 
In San Leandro? Missed out on our SFBW beers?  Full of cheese but not of beer? Come on by Drake's Barrel House, then, where we'll be pouring everything we've released for SFBW, as well as food available from Fivetenburger, Bombzies BBQ, and our own Brew! Kitchen (scroll down, yo) to keep your lunch or dinner plans to a minimum.  (TUMS not provided.)
Drake's Beer Breakfast with Chef Bruce Paton- Sun 2/15, Barclay's Pub in Oakland- 10am – 4pm  
Join the Drake's crew including Liz Sale and learn how to say a proper farewell to beer week with Brunch paired with Drake's beers.
Celebrator Beer News Festival at Trumer in Berkeley- Sun 2/15- 4-8pm
The official goodbye to beer week party is happening again in Berkeley, and we will be there too with plenty of beers.
If that list wasn't enough for you, we will also be out on the town all over the place this beer week. Check in on the full schedule at sfbeerweek.org and come drink some beer with us this February.