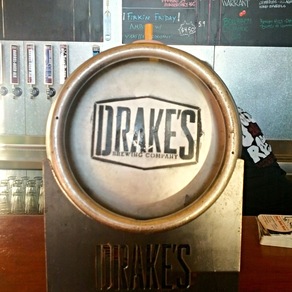 Firkins- you're starting to seem them more often, and we do hear the cries of some non-believers shouting, "Why the heck would I want to drink from one? Isn't beer supposed to be cold as the Rockies? My buddy's brother is a bartender that says they just hold 'warm, flat beer.' Weird."
We (and the entirety of the UK) would like to ask those folks to wise up and consider the world of  "real ale."
Real Ale- A traditional style of ale finished and served in casks (firkins, pins). Brewers rack nearly finished beer into casks with a bit of yeast that works to help the beer continue to mature. The yeast will contribute to a secondary fermentation within the cask both finishing the beer and producing a light, natural carbonation. Once ready, the beer is served directly from the cask at a cool (not warm, not cold) cellar temperature of ~55 degrees F. The light carbonation and slightly warmer serving temperature opens up the flavors and aromas of the hops and malt helping to make a highly quaffable and highly flavorful experience.

Sounds neat, in a beer-nerd kind of way, right? But that's not even where the real fun begins. Firkins are one of the best ways to experiment with beer. Chicory in porter. Mango in IPA. Ghost Peppers in Drakonic. Those are just some of the interesting flavors we've put together in our cask program, led by brewers Hal McConnellogue and Travis Camacho.
How do they come up with these combinations? McConnellogue states matter-of-factly, "It's essentially the natural progression from food pairing. You know when you realize that certain foods go well with certain beers at the dinner table? Well some elements of those foods end up working really well when you actually put them IN the beer."
"For example," McConnellogue continues, "chicory is used in conjunction with (or even instead of) coffee around the world. Well, our Black Robusto Porter has a lot of those same roasty, chocolately notes that coffee can have, so we thought, 'what the hell, why not?'"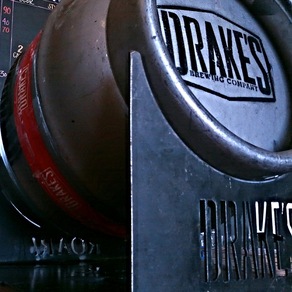 Granted, not all American brewers and bar owners have mastered the Art of cellaring a proper cask of real ale. We will be the first to admit that some firkins out there do indeed emit warm, flat, cloudy, yeasty concoctions with weird additives. Please don't let these experiences spoil real ale for you.
Luckily, for us, Travis and Hal have passion for real ale and the obsessive meticulousness necessary to learn the art of cellaring casks properly. They give each cask the necessary time (generally a few weeks) to go through a full secondary fermentation. They discuss in depth the flavors that would potentially enhance the beer including fruits, spices or added hops. Lastly, we have our own bar, with a temperature controlled serving area and a hand pump that allows us to care for these casks from their creation until the last pint is served. How can you taste their efforts? Every Friday we tap a new cask at Drake's Barrel House, so make your way here and get a taste of how Drake's does real ale. Cheers.
Like this post? It's pulled straight from our newsletter. Sign up at the top right corner of the page to keep on top of the latest beer from Drake's.  We promise no spam, unless we find out it pairs well with 1500.