Industry treasure & Drake's Head Brewer John Gillooly has a lot of opinions. He will also share them at will (trust us).  So, we've decided to share his opinions with you nice newsletter readers. This month, he muses on the history on the New Zealand hop industry: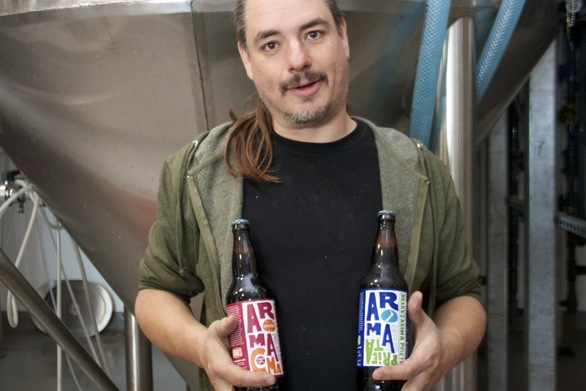 So with Aroma Prieta due out on the 6th, I thought I would do some reading up on New Zealand hops.  I've been really impressed with some of the new aroma varieties come out from down under, but I never really knew much about the history of hop growing in New Zealand. 
The New Zealand hop industry started in the mid 1800's with the importation of both English and German hops, via settlers from those areas.  They were grown in the Nelson province, and they did all right – yields were quite a bit lower than in Europe, but on the plus side there were no native pests (they didn't care at the time, but this later helped establish New Zealand as the center of organic hop growing).
In the 1920's, a hop from California – Cluster – was brought to New Zealand.  It started yielding almost double the earlier imports, and soon became the key hop of the New Zealand hop industry.  This lasted about 20 years, when Clusters started to be wiped out by a root rotting disease.
This led to the formation of the Department of Scientific and Industrial Research in Riwaka.  They immediately started a program of crossing the different hops on hand, starting with a Fuggle/Cluster cross in the 50's.  The varieties we are playing with today in the Aroma Prieta are some of the most recent entries from this program.  Motueka is a Saaz derivative, Pacific Jade is a Cluster/Saaz cross, and Nelson… well, that seems to be a cross of a bunch of different crosses and is pretty much a "New Zealand" hop.  But really, it's pretty hard to say you are getting much traditional "Saaz" character out of the other two hops – New Zealand hops have developed into their own thing.
When I stick my head into a box of New Zealand hops I expect to get grassy notes with fruit overtones that smell more like melon than the usual citrus, with some higher spice notes thrown in.  But better than smelling them is drinking them, so I'm glad to have another season to dig into Aroma Prieta and think about NZ hops.
-Head Brewer John Gillooly
Collin, Chris, Justin, and Cortlandt- four Drake's Brewers come together for Aroma Coma's first brew of 2013